I needed a handful of business cards for an art fair I was doing. I only needed a small run and it seemed like a bit of a waste to order such a small batch from a professional service. There are a few professional printers that I like to use for higher runs and business products. I decided to look into DIY options for handmade business cards.
I looked through some ideas on Pinterest. I was particularly interested in these watercolor business cards I found made by Akula Kreative. The cards looked super clean and each one was one of a kind. This was a win win for a DIY project.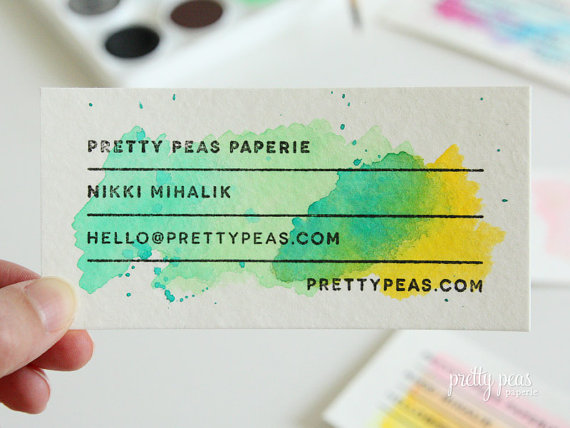 What I Did
The recommended custom clear stamp was not available so I decided to make my own rubber stamp. I looked through some tutorials and decided to go with the Parchment Paper Method for transferring ink to the stamp for carving. Instead of going out and buying watercolors I just used acrylics that I already had.
Materials
Speedball® Speedy Carve Kit $10-$20 from Michael's (cost depending on how many cutters included)
Parchment paper from grocery store $4.31 (including tax)
Black ink pad from Staples $2-3 (I found a tutorial to make your own stamp pad but I decided not to go this route)
An hour to carve the stamp (more if the design is complicated)
Thoughts
The text on the card doesn't look as clean as the inspiration. I think this is because the stamp was carved by hand instead of being machine made. Instead of being a bad thing I decided that I liked the handmade business card look and that this added to the meaning of the card.
The acrylic doesn't look the greatest. I could have tried again and watered the paint down more. Instead of fussing with it I decided to just go without a background color. So far I've probably handed out 50 of these and everyone seems to be pleased with them.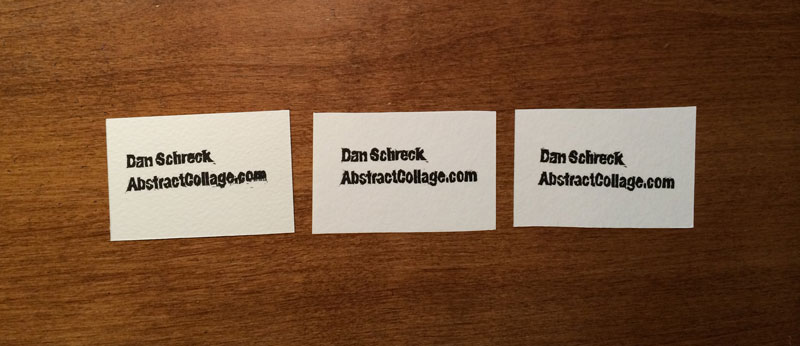 Further Reading: Tutorials
Rubber Stamp Materials – particularly helpful if you are new to carving your own stamps like I was